How to Setup Mandrill (Mailgun) and MailPoet to Send Free Newsletters
MailPoet is hands down the best Newsletter plugin for WordPress right now. However, in order to use its full potential it needs to be used along with a professional SMTP service provider, like Mandrill. This tutorial will explain you how to setup Mandrill and MailPoet to send your Newsletters in style. And the best of it all: It won't cost you a single cent!
Important Update (Mar 4, 2016): Mandrill decided to shut down their free service :( Fortunately there is another service called Mailgun.com that easily takes its place. The setup is pretty much the same as explained below. Feel free to ask questions in the comments if you get stuck and Happy E-Mail Blasting!
Mandrill and Mailpoet Setup
What you need to get started is a fully setup WordPress page and the plugin MailPoet installed and running. The process is pretty much straight forward but if you have trouble with it check out the video below:
1 min. demo of how creating and sending newsletters from within WordPress can be easy thanks to our visual editor. http://www.mailpoet.com
The next step is to head over to Mandrill and create an account. Mandrill is from the same guys who run the overly successful newsletter tool MailChimp and the SMTP service is free to use, for up to 12.000 E-Mails per month!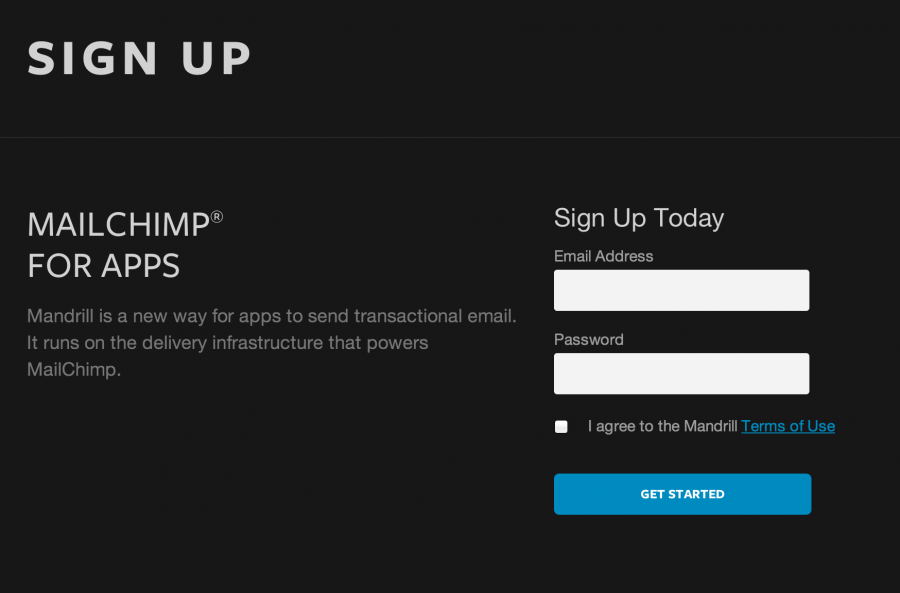 Once you have signed up to the service, head over to the SMTP & Api Credentials page. There, click on "+ New Api Key" and a new Api key will pop up below.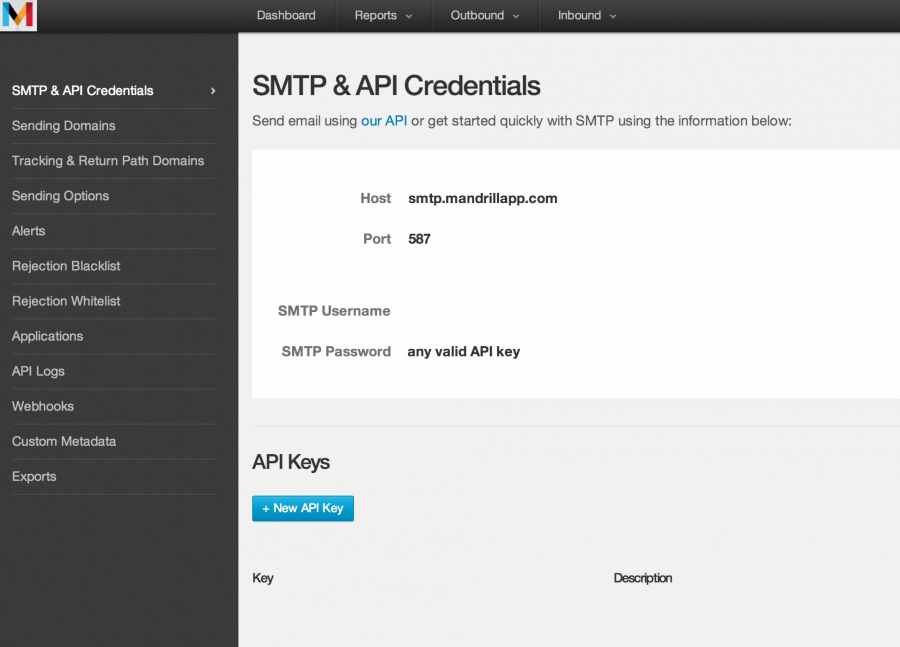 Now head over to MailPoet, specifically the Settings -> Send With… tab and choose "Third party" at the top. There enter the details you just got from Mandrill:
SMTP Hostname: smtp.mandrillapp.com
Login: Your SMTP Username from Mandrill
Password: Your generated Api key from Mandrill
SMTP Port: 587
Secure Connection: TLS
Authentication: Yes
You can leave the Send setting at 200 e-mails per hour to be safe. Mandrill supports up to 250 e-mails per hour for the free account tho.
After all settings are made, click "Save".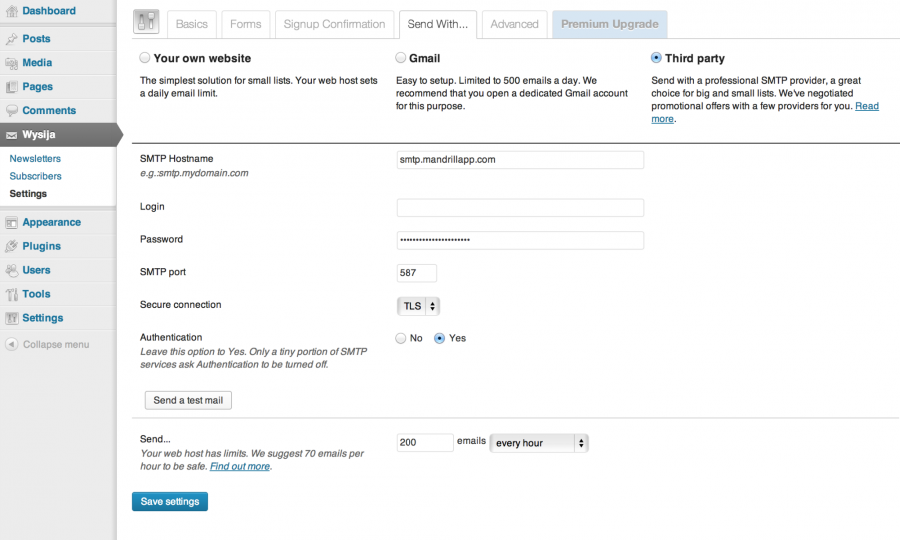 Now press the "Send a test mail" button. If you receive a test mail from MailPoet everything is good and you are done. If not, double check if your settings are all correct.
SPF Settings to Secure your Domain
If you successfully sent a test mail before, this step is optional. However, you can make your system more secure by applying SPF settings to the domain. Also, if the test e-mail could not be sent, it is most likely because of the missing SPF settings. Some providers have SPF enabled and this might prevent Mandrill from sending the newsletter. Basically, SPF is an E-Mail validation system, that prevents spammers and hackers from using your e-mail address to send spam mails. Sounds like a got idea to use it, doesn't it? Now, let's fix this:
Head over to the "Sending Domains" setting in Mandrill. You will notice that the page will state "SPF missing". In order to fix this you will be required to add a DNS record to your domains DNS server.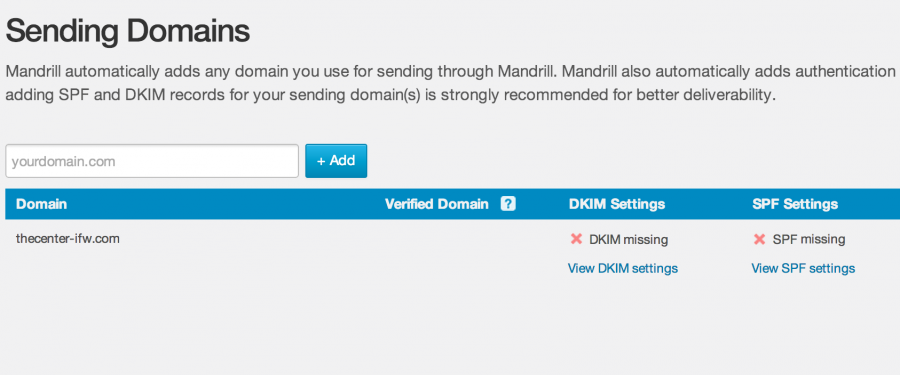 Therefore, you will need to login to your web host domain backend (the website, where you host your domain, that is used to your newsletter e-mails with) and find the DNS settings, aka the DNS Zone File. Usually, the DNS Zone File is just a text field, that looks somewhat like this: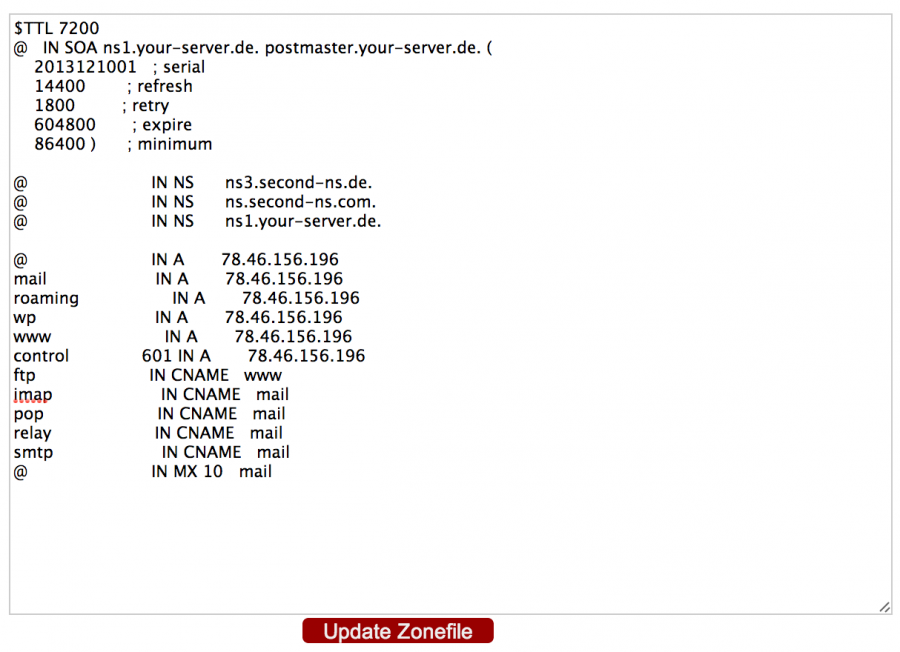 In order to add the SPF record to it, you need to add the following line at the end of the file:
@ IN TXT "v=spf1 mx include:spf.mandrillapp.com ?all"
So, what does this do? The command will tell the DNS server, that it is ok to send e-mails in your name from Mandrill. It also allows your regular mailserver to send e-mails with this domain name. If you played around with Mandrill a bit, you will notice that they suggest to add a slightly different command to the DNS zone file. There command is missing the "mx" in the middle. What the added "mx" does is, it allows to send not only e-mails from Mandrill, but also E-Mails with your regular mailserver. This is important as you most likely send your Newsletter from a domain, that you also use for normal e-mails from your desktop. The "mx" ensures that this will still be possible.
After adding the command to the Zone File click "Save" and head back to the Mandrill "Sending Domains" page. It might take about 30 minutes, or even an hour, but then, when clicking "Test DNS settings" it should say "SPF valid".

Congrats, you just setup Mandrill and MailPoet and on the way, made your Website digital life more secure. You are now able to send professional E-mail newsletters, using the leading service on the internet. And it didn't cost you a dime!
Having trouble to set this up yourself? Get in touch with me and let me help. I also offer great support in Social Media Marketing and WordPress!